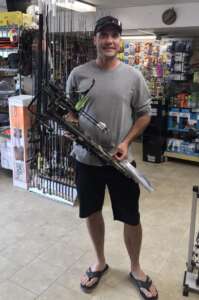 Taking home the coveted title of 1st place is Chris Coumbs Jr, who bagged an impressive 22.12 lbs turkey. A remarkable feat, indeed!
Chris Claims the Coveted Xcalibur 340 MAG Air as the grand prize!
Not to be outdone, our 2nd place winner, Dave Byrnes, demonstrated remarkable prowess in the field, making his mark with an exceptional turkey harvest. And rounding out the top three, we extend heartfelt congratulations to Jamie Sala for securing the 3rd place position with a remarkable display of hunting expertise.
These remarkable hunters have set the bar high, exemplifying the spirit of adventure, dedication, and precision that define the essence of Outdoors Plus. We applaud their achievements and extend our warmest congratulations to all our winners!
Stay tuned for more exciting events and opportunities to showcase your hunting skills at Outdoors Plus. Until then, keep exploring, keep hunting, and keep pushing the boundaries of outdoor excellence!